So You're Thinking About Starting A Home Business?

Well...here we go! Starting a home business can be the most exciting decision yet the most intimidating one you will ever make.  With the uncertainty about whether you will succeed or not, it's advisable to put together a thorough plan before embarking on your home business journey. 
Plans that are effectively put together can turn out to be fail-proof no matter what happens.  You will save time and money, and you will avoid the pitfalls that sometimes comes along with starting a home business.  You will also avoid wasting money on unnecessary products that you don't need.

Like starting an offline business, there are certain laws that you must abide by.  Just because you will conducting a business in your home, doesn't mean you get a free pass.   Check out your county or State's small business requirements , regulations and laws put in place.  They must be followed to avoid getting into trouble with the law. 

Starting A Home Business Decision Guide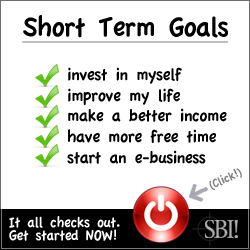 1.  Do an evaluation of yourself.  Are you a self-starter or are you a quick learner?  Are you most effective working independently or are you a team player?  If you are more of the former, you will most likely do well.  But if you are the latter, you may want to partner with someone.
2.  What are you passionate about?  What's your hobby or what interests you?  Turning your passion or hobby into profit is one of the easiest ways to start your home business.  It is easier to build a business with something you love or enjoy doing.            

3)  Do a research to make sure there is a market for your product and services?   If you feel there's not, start networking by becoming engaged in social media.  Facebook or LinkedIn are two good places to start.  Facebook gives you the opportunity to socialize and make good networking friends because there are lots of groups you can join and participate in.  LinkedIn have a lot of professionals that may be need your product or services.  There are others like Twitter, Pinterest, Stumbleupon and many more.

Also, become a member of sites like Warrior Forum.  It's a good place to go if you want to find out about the effectiveness of a company or tool you want to buy to enhance your business.   Although everyone that writes a review may not be honest, there are some that will hold no bars and tell it like it is.  Compared to most review sites that are just affiliates trying to push a product or service, they are the lesser of the two evils.

4) Do you have adequate space in your home to conduct your business?  If you sell something or do something that requires your customers to be coming into your home, are  you prepared for that?
5) Have you developed your "to do" list?  Developing a "to do" list will help you stay organized, as you deal with making the transition from coming out of a workplace environment to being in your home office where they may be no-one else to talk to.  The first few months of starting your business can be lonely, especially if you are used to a pool setting at your job.
6) Do you have toddlers and young children?  Decide when is the best time you'll be doing your business.  Will it be when they're in school or at night when they're sleeping or even when they're at the babysitter.  Making plans for the children will help you stay focused to  accomplish your goals.

6) Plan to have a website.  Having a website not only gives you an edge over your competition, it also helps your credibility, especially if you plan to create a heavy social media presence.
Answering these and other pertinent questions will help you get off to a good start as you embark on starting a home business.